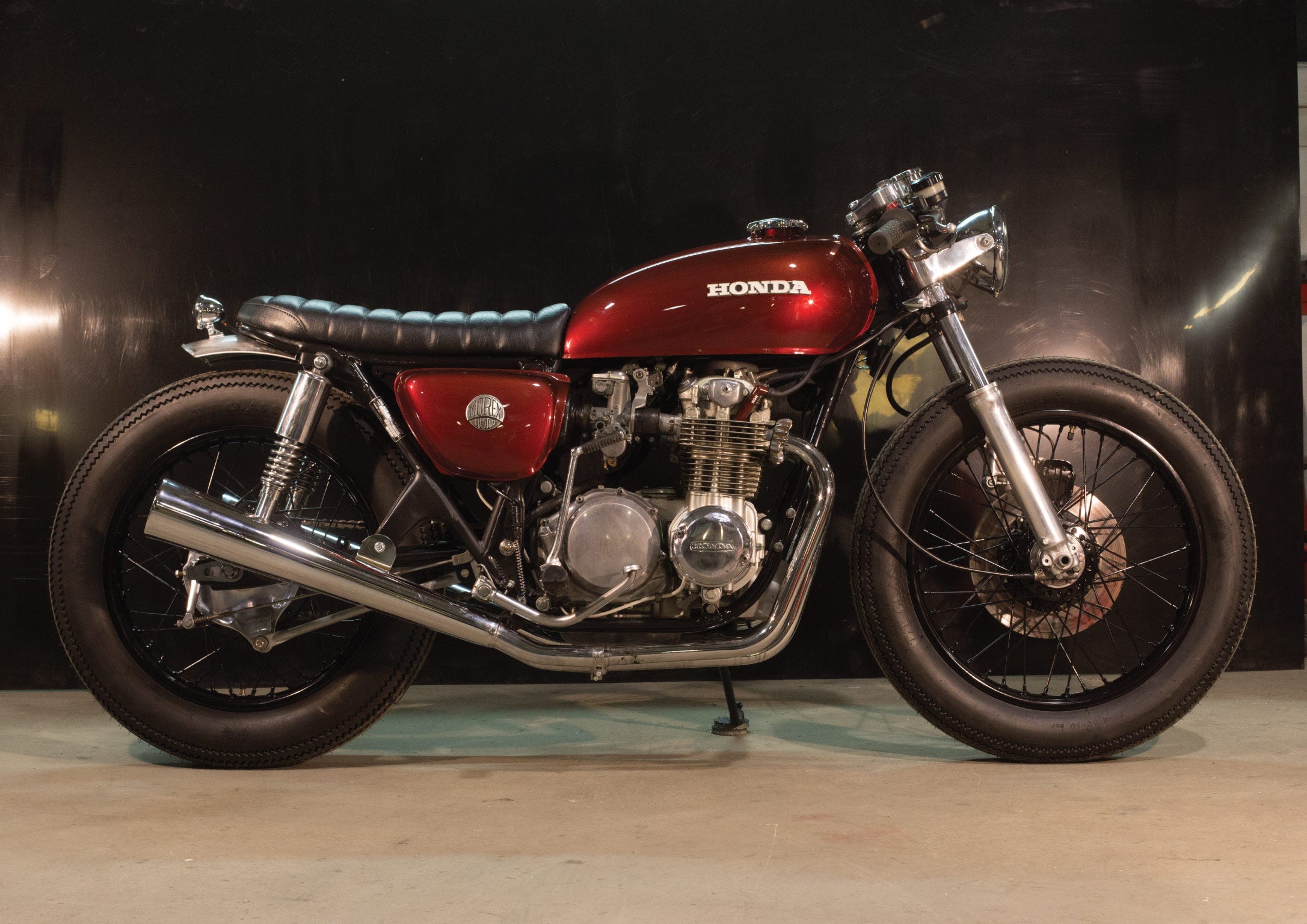 Appeared in 1971 with an advanced technique both for the engine and for the cycle part. It's a real everyday motorcycle that aims to be reliable, easy to handle and lighter than its big sister the 750. It is easily identifiable due to its particular shape, its roundness and its colours. Everything about this machine catches the eye so when we have to add our twist to such a reputable and well-born model, we can only sublimate its appeal.

CUSTOM
Our more minimalist customization does not alter the original model. At first glance, it is also dazzling with so much chrome. The front of the bike is completely remodeled. We have removed the handlebars in favor of bracelets. The fork bridge is machined to measure, cut in the mass and grafted with a dashboard printed in 3D which incorporates the indicator lights of origins. The rear loop has been modified and a new aluminum mudguard is attached to it. Retro chrome lighting, black leather for the saddle and a shiny burgundy complete the elegant line of this 500 four.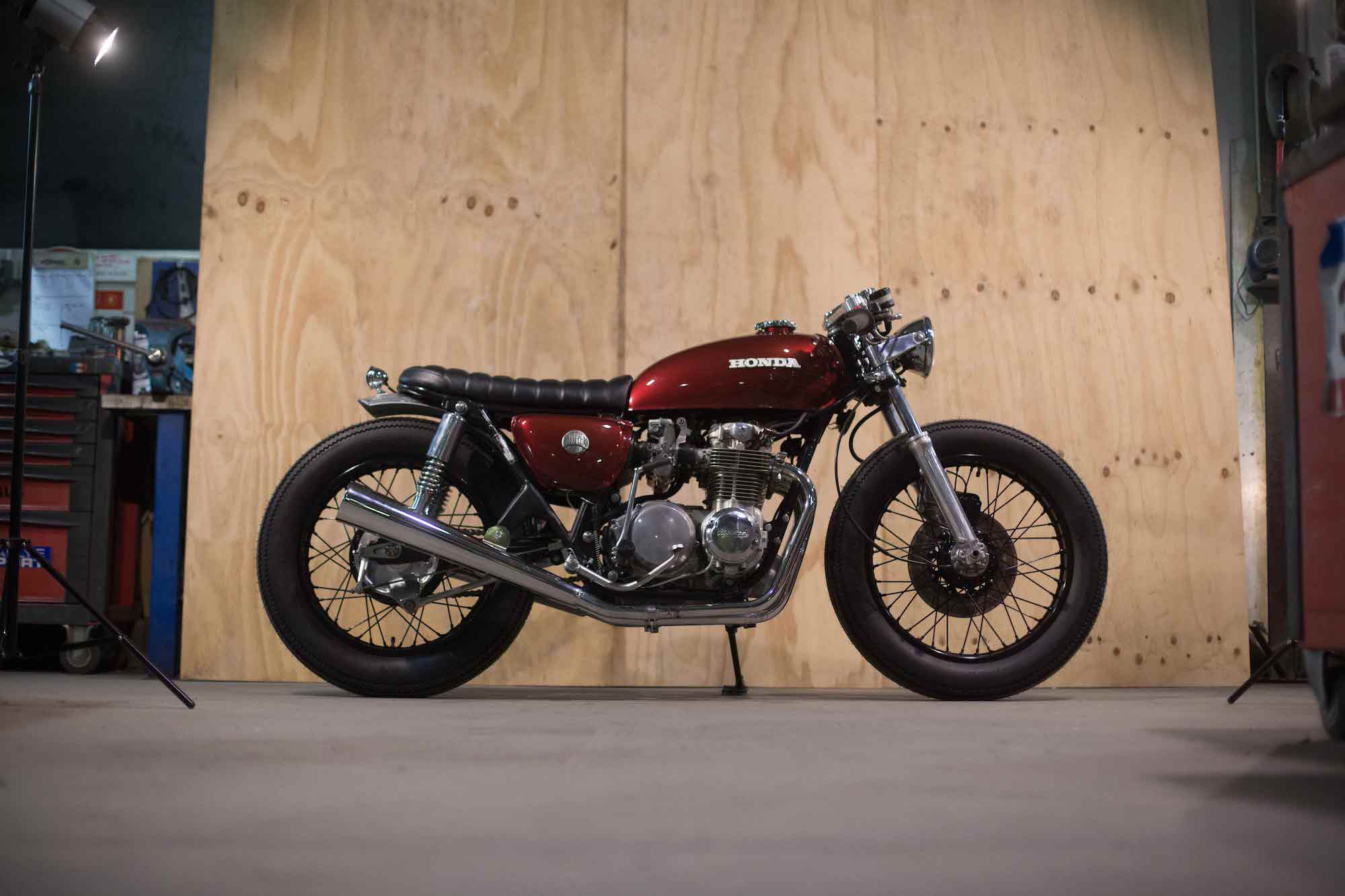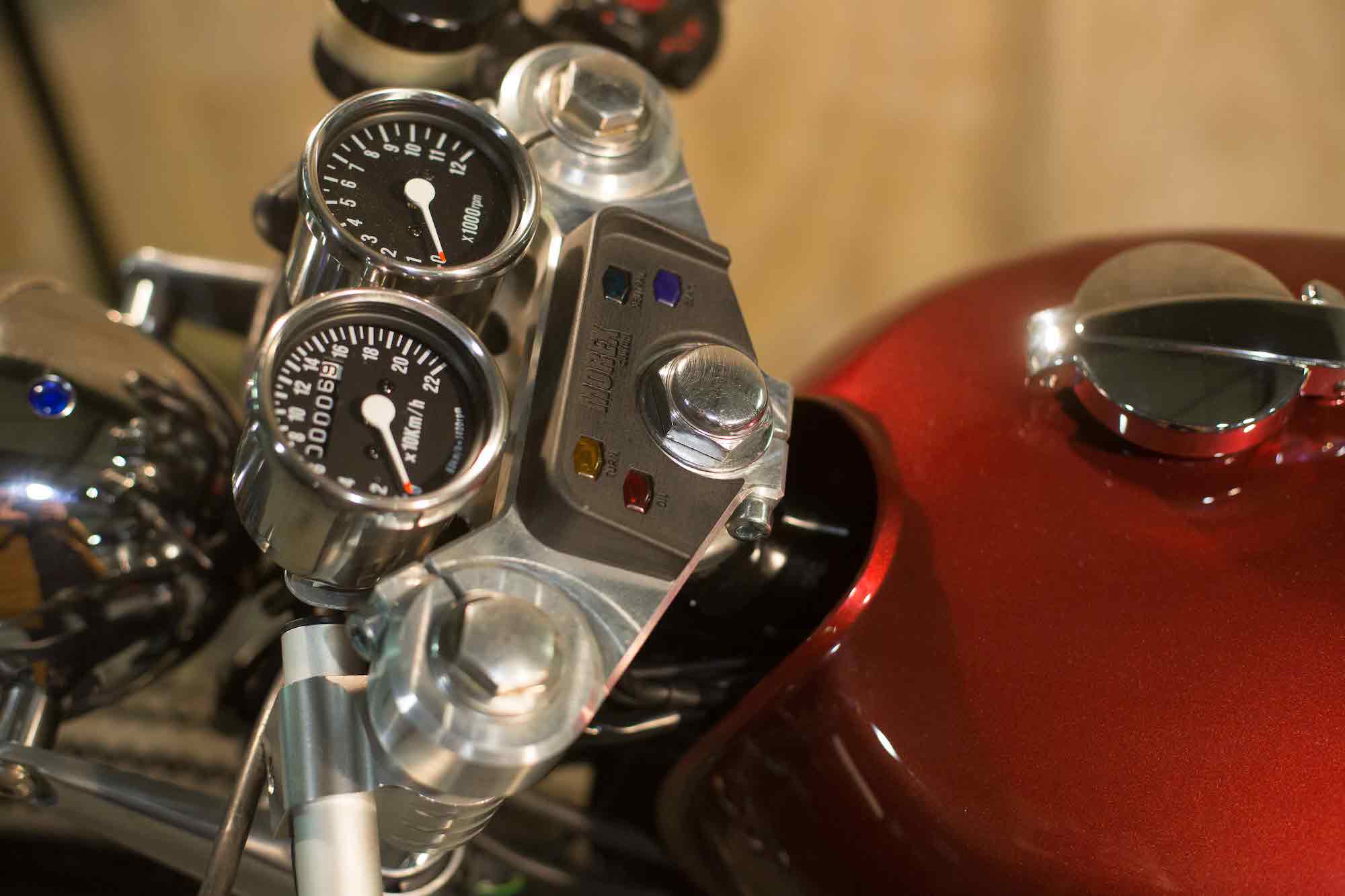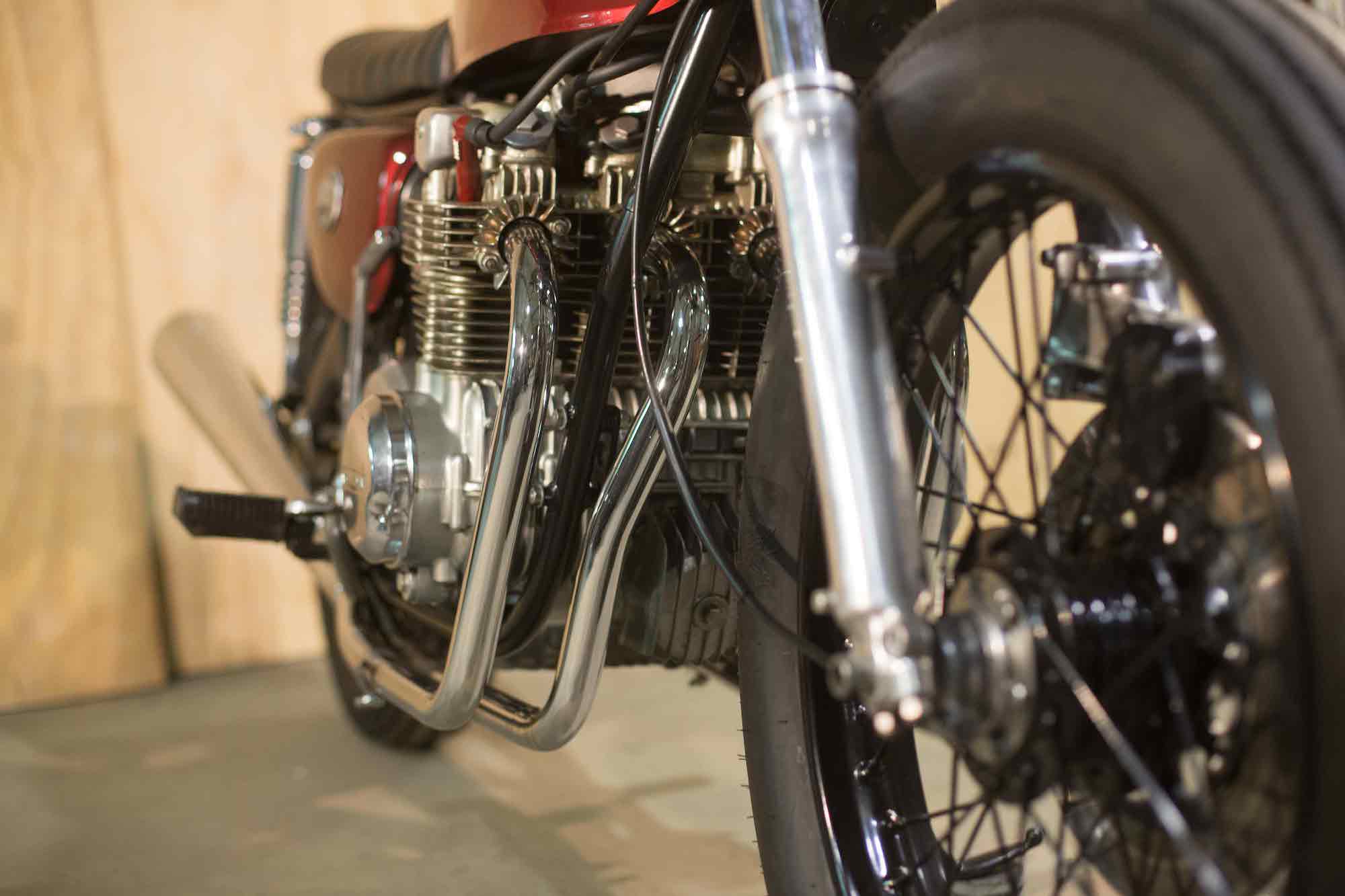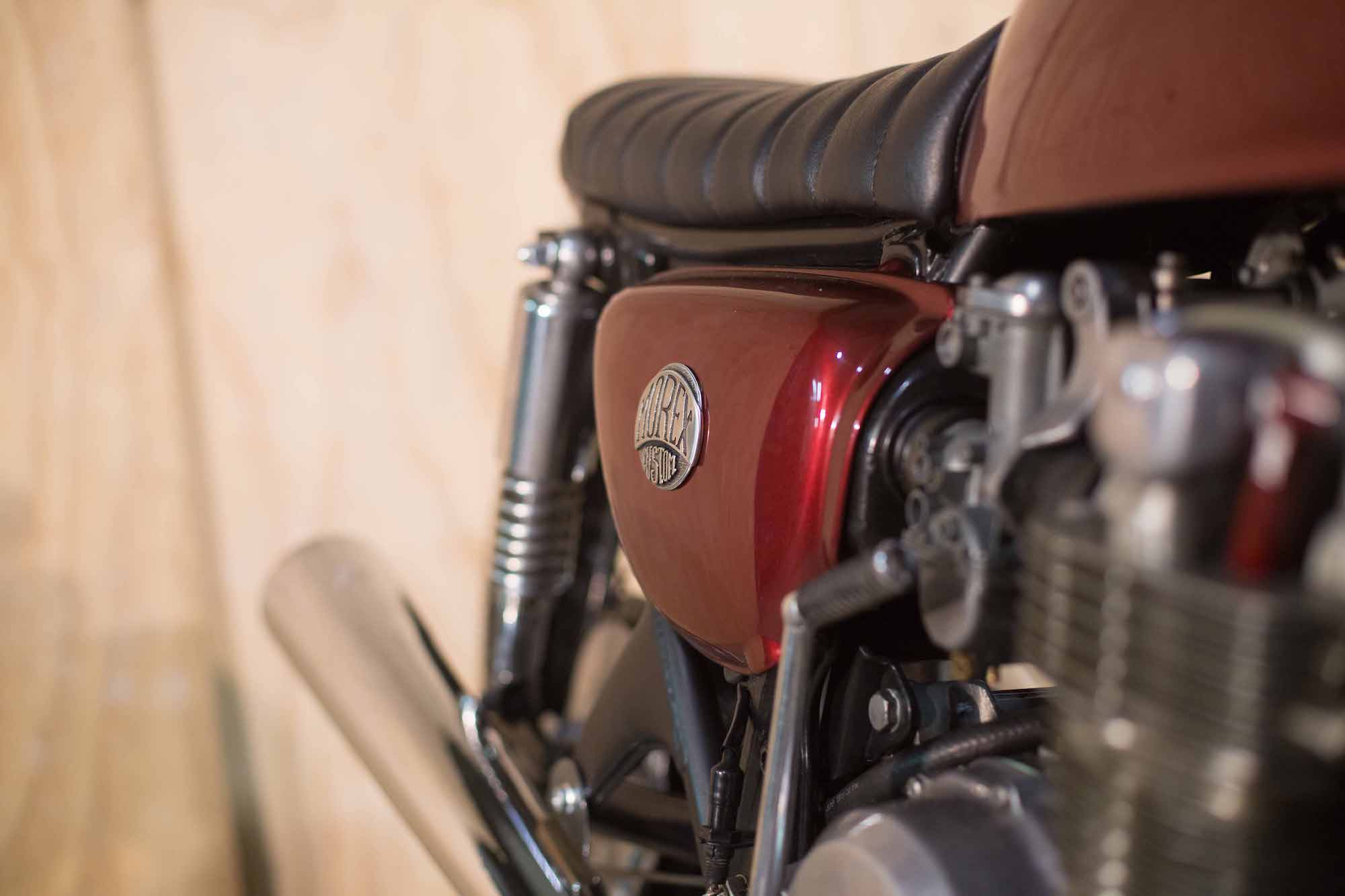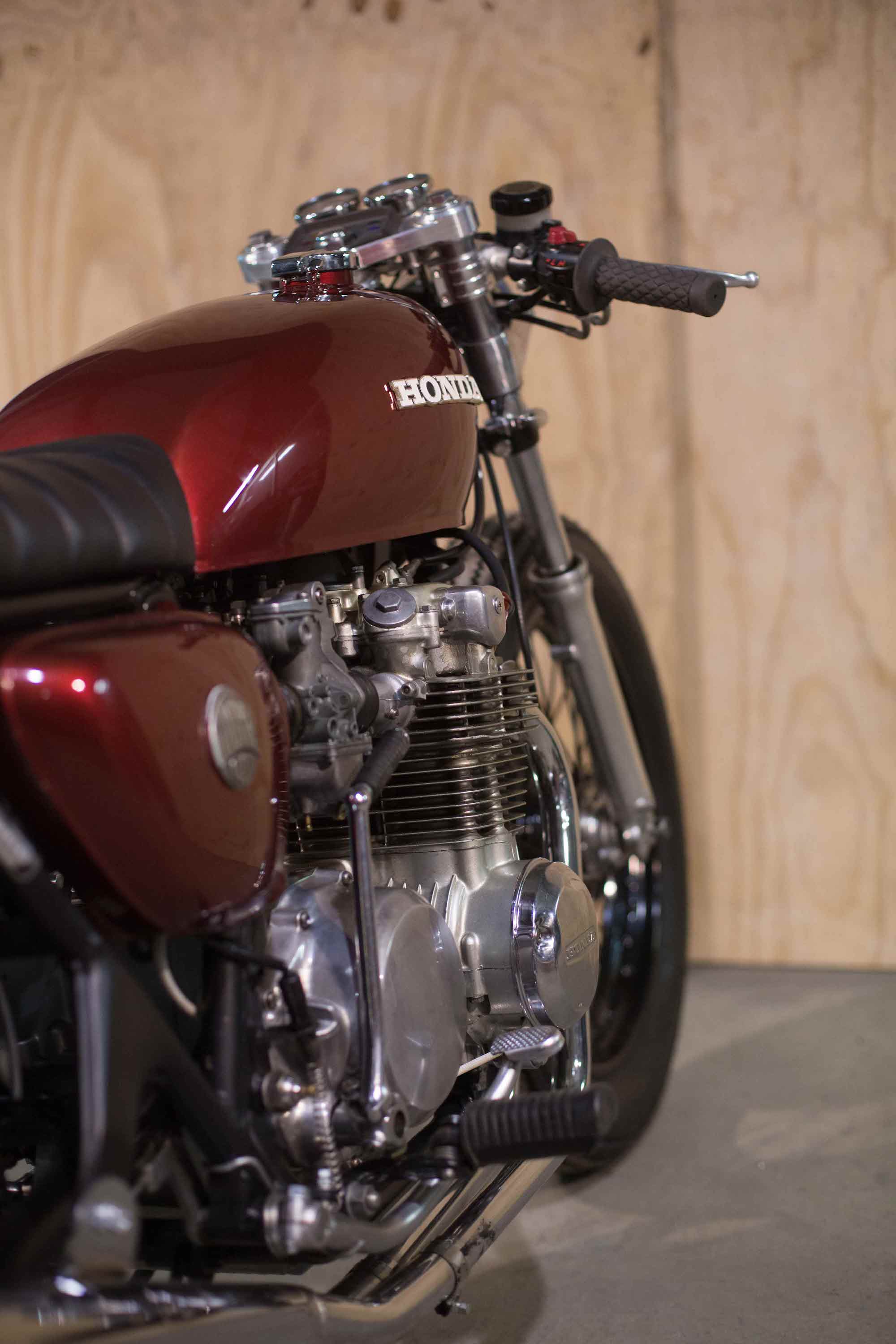 A LITTLE HISTORY
The Honda 500 Four is an iconic motorcycle in Japanese motorcycle history. Launched in 1971, the 500 Four was produced until 1978 and marked a turning point in Japanese motorcycle production, as it was the first motorcycle to use a 500cc four-cylinder engine.

The history of the Honda 500 Four dates back to the late 1950s, when the Japanese company Honda started producing motorcycles. The first Honda motorcycles were equipped with small displacement single-cylinder engines. However, in the 1960s Honda began working on developing a larger four-cylinder engine for its motorcycles.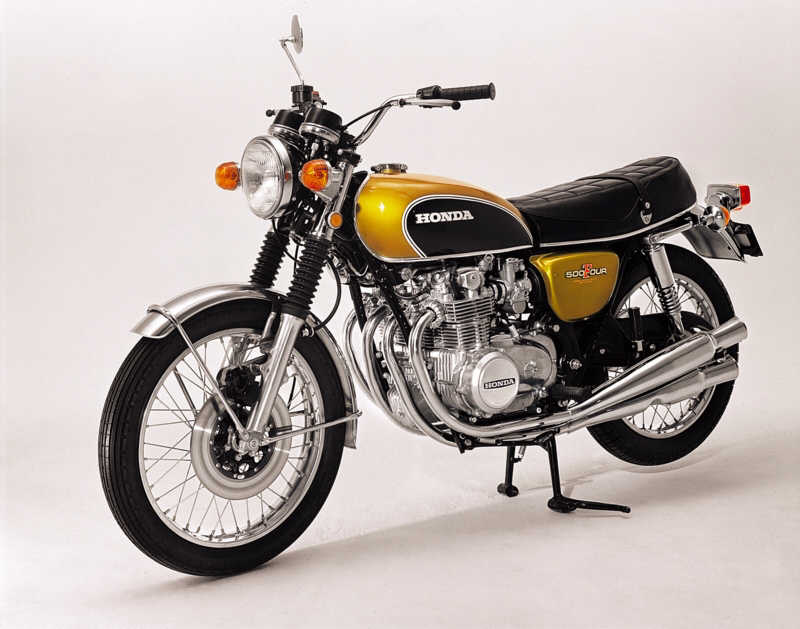 Development of the 500 Four began in the early 1960s. Honda engineers worked on a 500cc inline-four engine that would deliver high power and reliability. In 1965, Honda showed a prototype of the 500 Four at the Tokyo Motor Show, but production of the motorcycle was delayed due to technical issues.

Eventually, in 1971, Honda started production of the 500 Four. The motorcycle was fitted with a 498 cc inline four-cylinder engine which developed an output of 50 horsepower. The motorcycle was also equipped with a five-speed gearbox, disc braking system and swingarm rear suspension.

The Honda 500 Four was a great commercial success for Honda. The bike was fast, powerful and reliable, which made it a popular choice for riders around the world. This motorcycle also marked the beginning of Japanese dominance in the motorcycle world, as it was more powerful and advanced than the motorcycles produced by European manufacturers.

Over the years, the Honda 500 Four has had several upgrades, including a bigger engine and improved suspension. The motorcycle also served as the basis for the development of other models, such as the Honda CB550 and CB750.
A custom motorcycle project?
Do not hesitate to entrust us with your custom motorcycle project, we will be delighted to create a unique motorcycle for you.