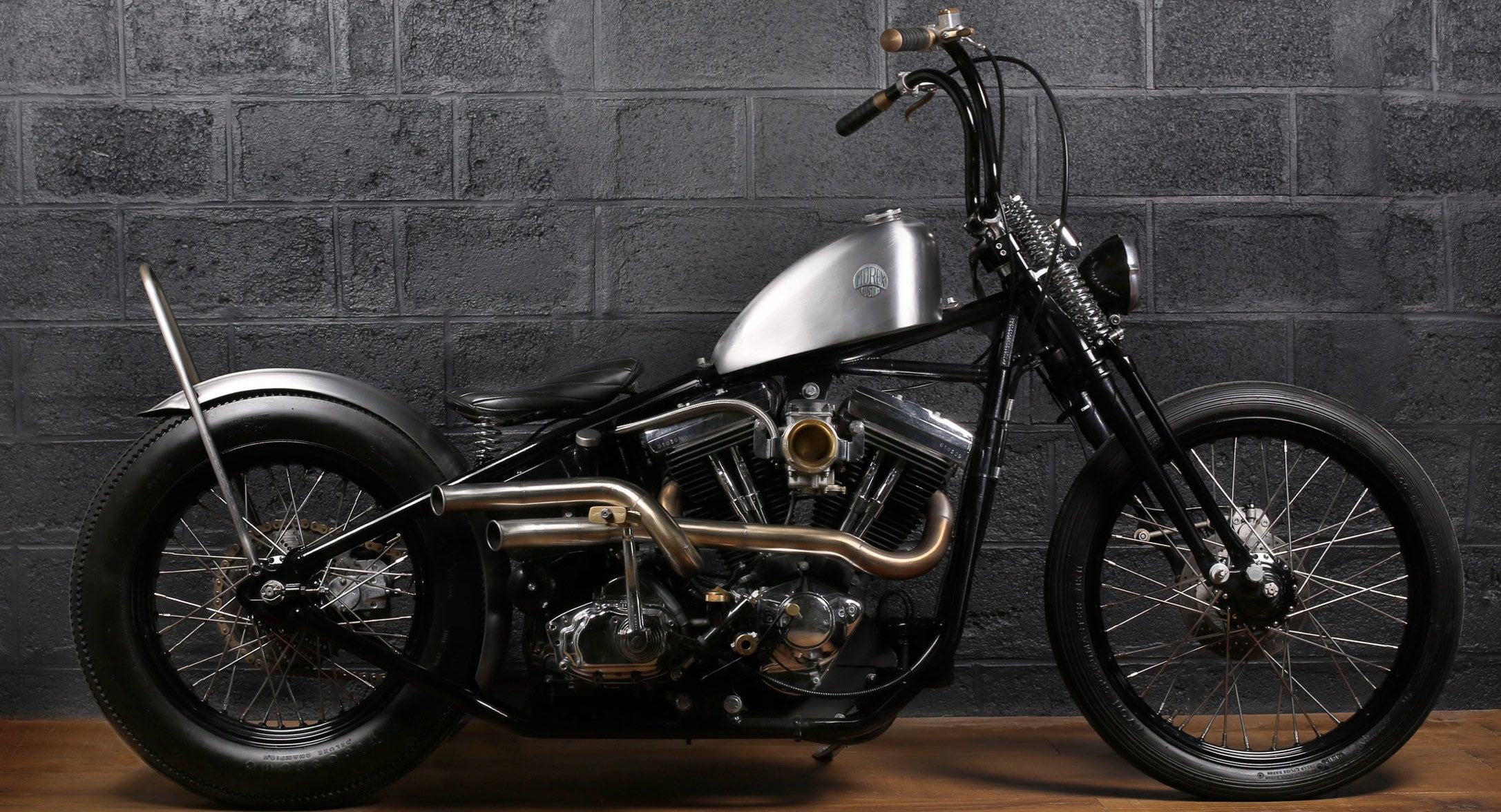 We believe that each motorcycle should be unique and representative of its owner. That's why we created a Harley Davidson chopper made partly by hand, with carefully selected parts to achieve a unique result. Our chopper is equipped with a 1340 - EvoCarbu Keihin CV engine, 18″ and 21″ wheels, as well as a Peanut tank and a gearbox.
Many parts of the chopper have been handcrafted with great attention to detail. We designed a custom handlebar and sissy bar, plus a baffleless titanium tube exhaust system to achieve a unique sound. The forward controls have been changed to mid-controls and turned to lathe, and the brass grips as well as the handlebar tape add an extra touch of style.
The Kraft Tech frame and Springer fork were selected for their sturdiness and reliability. We also added a Flat Flender, Solo Seat and Spotlamp for a timeless look. Finally, the kickstarter, 1-1/2″ belt primary, front disc brakes and Horseshoe oil pan were installed for an optimal riding experience.
With this 1340 Harley Davidson chopper, Morex Custom shows its craftsmanship and attention to detail. We are proud to offer unique motorcycles to our customers who wish to own a motorcycle in their image.
Engine 1340 - EvoCarbu Keihin CV :
18″ and 21″ wheels
Peanut Reservoir
Gearbox

Handmade Pieces:
HandlebarSissy-bar
Titanium tube exhaust system without baffles
Forward controls changed to mid-controls and moved to lap
Brass handles and handlebar tapeHorseshoe oil tank
Added parts:
Kraft Tech frame
Replica WLC/Big Twin Springer Fork
Flat Flender
Solo saddle
Sprocket brake, Front disc brakes
Kick Kit, 1-1/2″ Belt Primary
Headlight Spotlamp
Horseshoe Oil Pan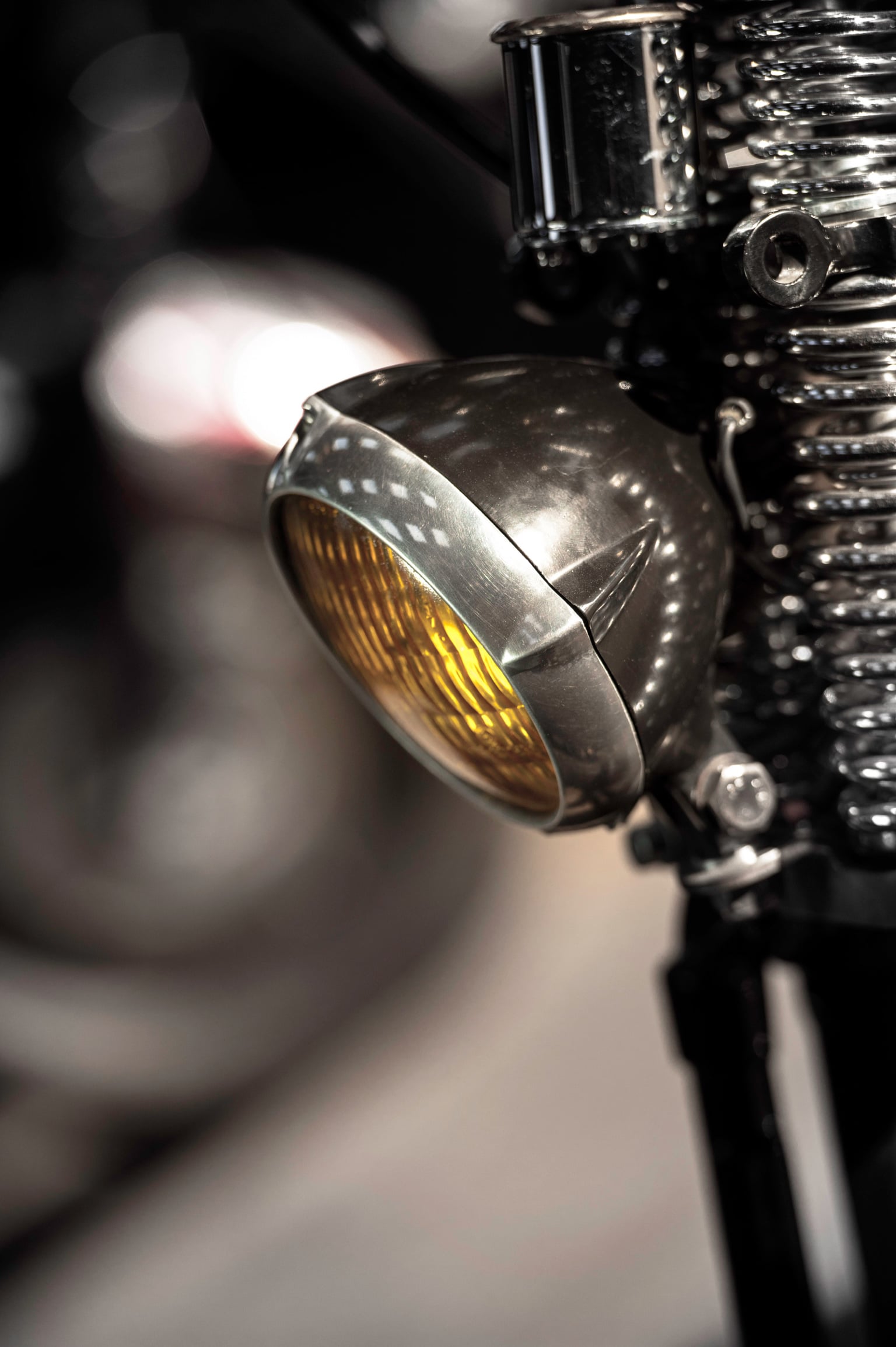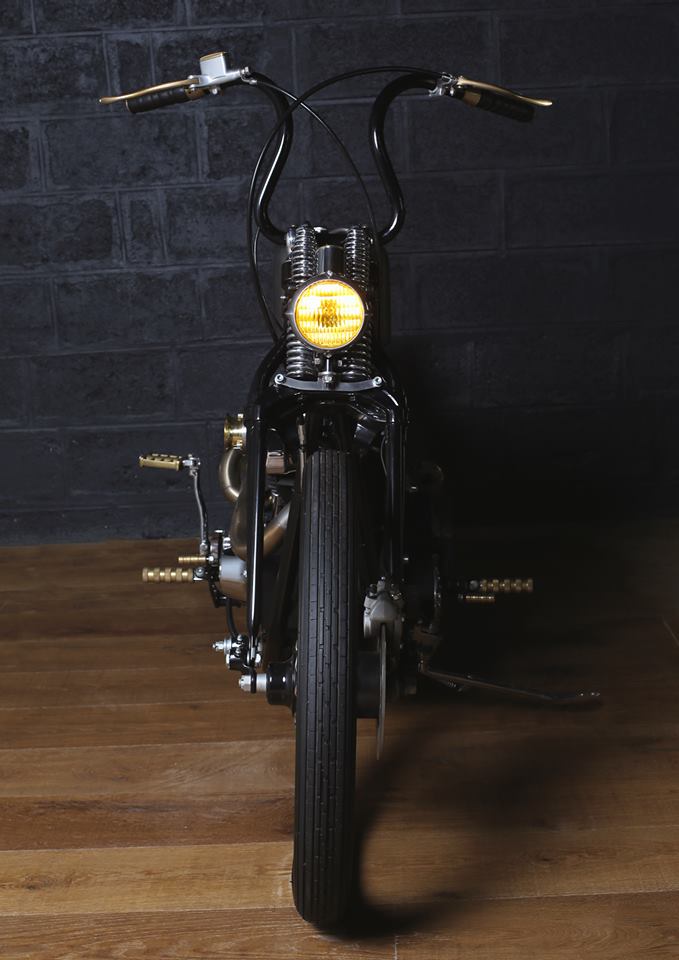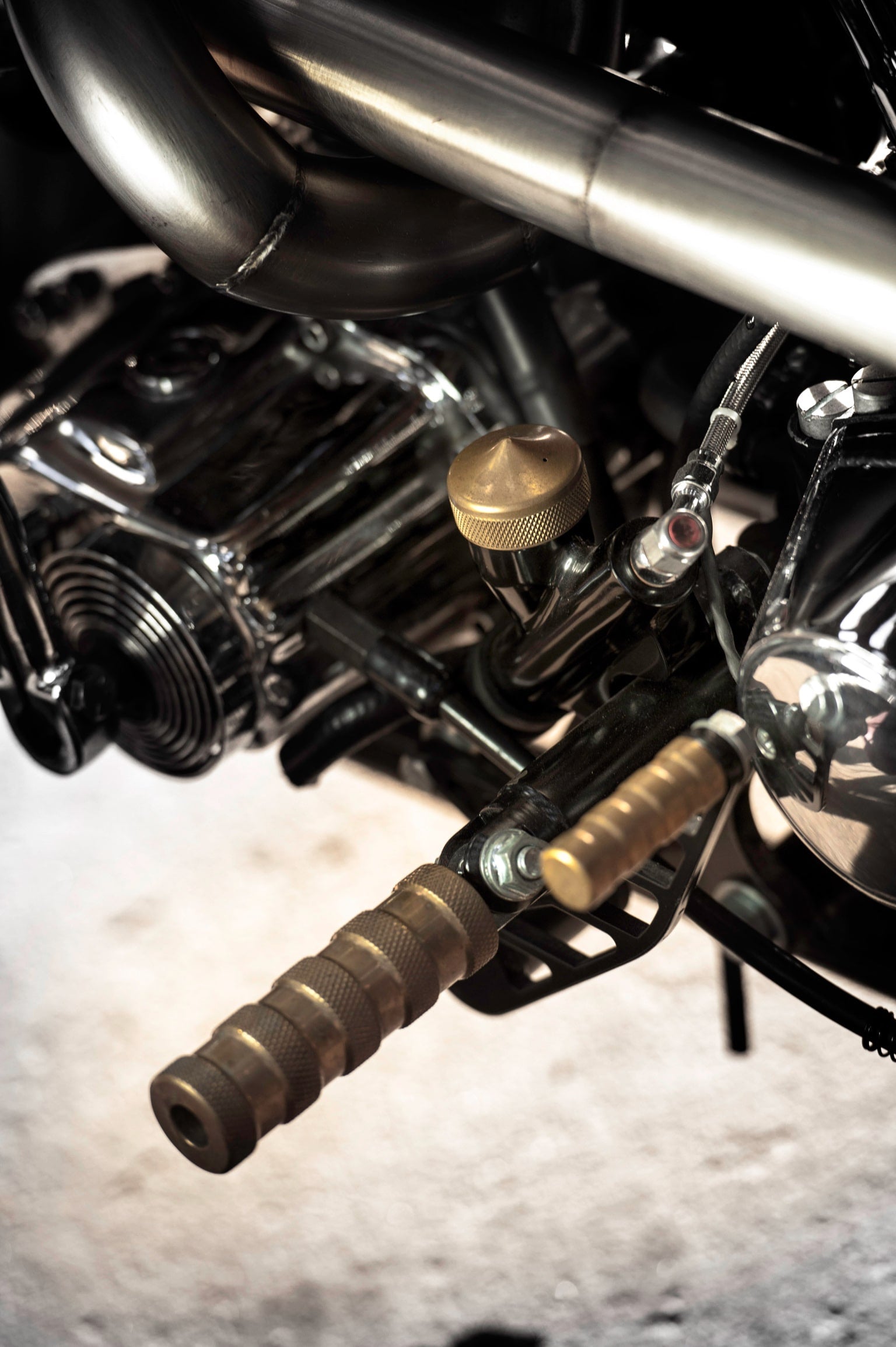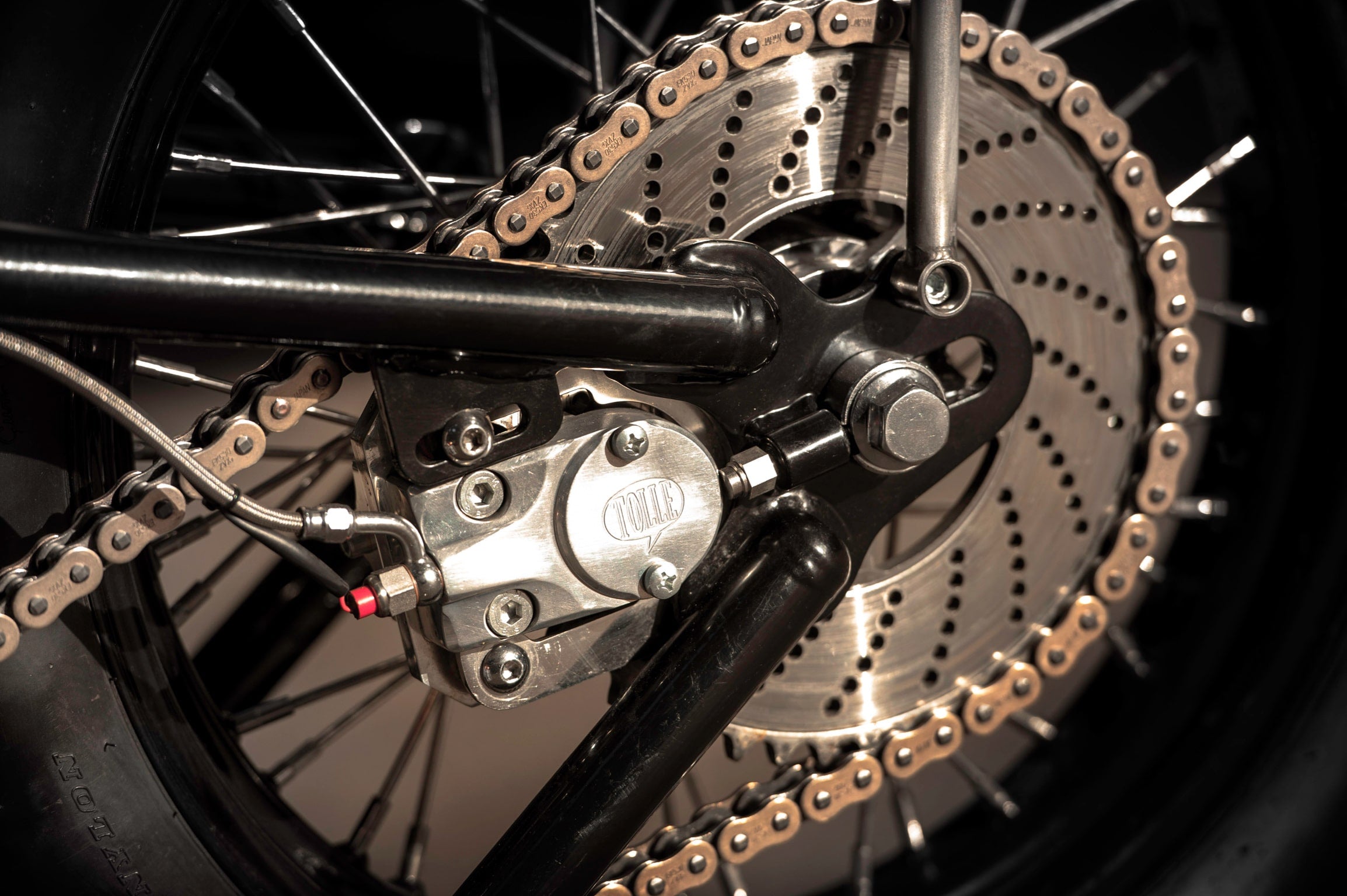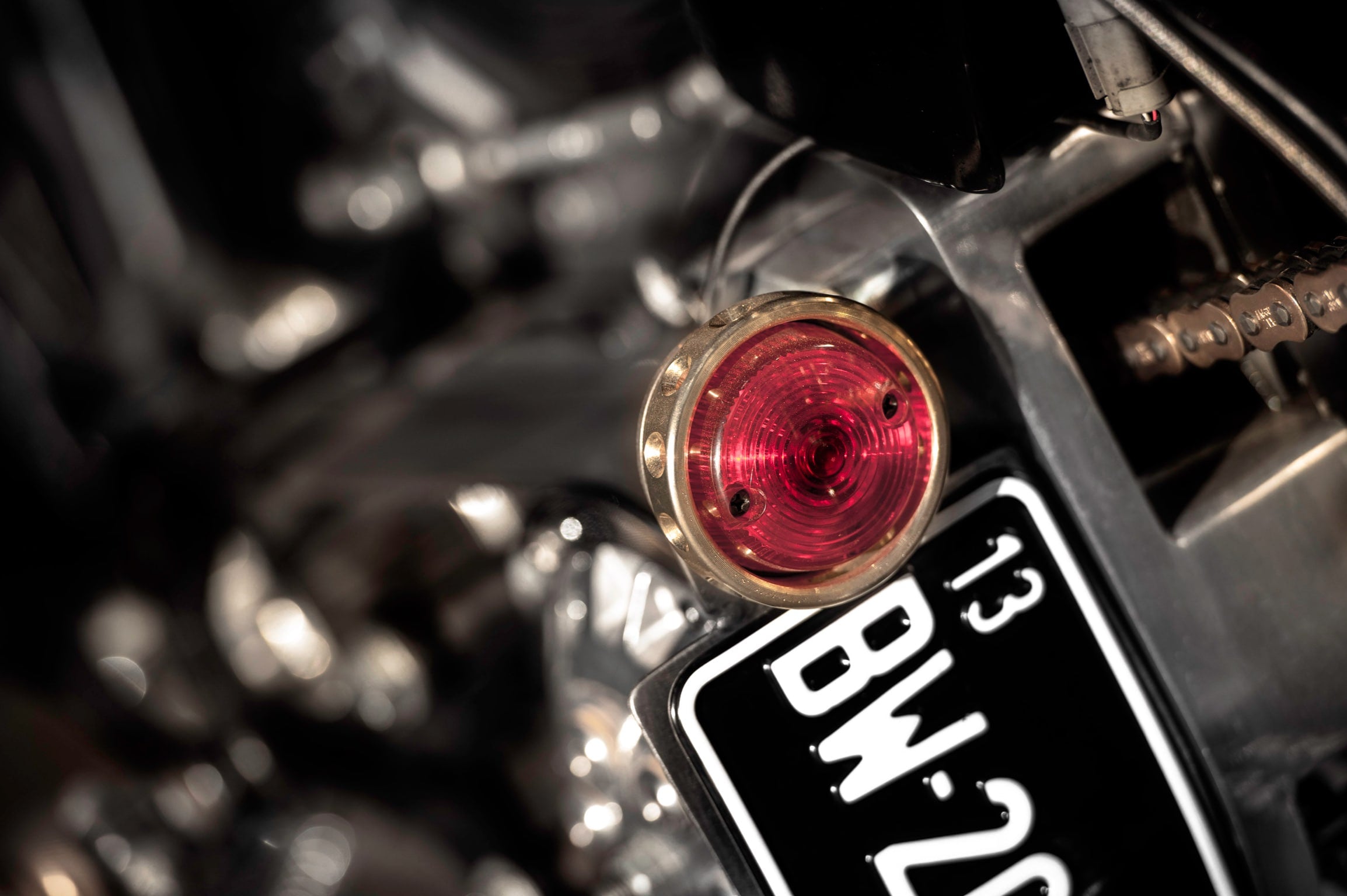 A little history
The Harley Davidson 1340 Evolution , also known as the Harley Davidson Evo, is a legendary motorcycle that has left an indelible mark on Harley Davidson history. Introduced in 1984, the Harley Davidson Evo was produced until 1999 and became one of the most iconic motorcycles ever produced by the American manufacturer.
The Harley Davidson Evo featured a 1340cc V-twin engine capable of producing up to 80 horsepower. The engine was air-cooled, which gave it greater reliability and reduced maintenance costs. The bike also featured a five-speed gearbox, hydraulic disc brakes and a new rear suspension system that improved handling and ride comfort .

The Harley Davidson Evo was an immediate hit with motorcyclists around the world and helped Harley Davidson once again become a major player in the motorcycling industry. The motorcycle was praised for its power , reliability and distinctive sound , which became the hallmark of Harley Davidson motorcycles.

Over the years, the Harley Davidson Evo has undergone several improvements and upgrades, including the addition of fuel injection and electronic ignition systems. These upgrades have allowed the bike to meet increasingly stringent emissions regulations, while maintaining its impressive performance .

Today, the Harley Davidson Evo is considered a classic motorcycle and is highly sought after by collectors and enthusiasts. Its distinctive design and powerful performance have made it an enduring icon of American motorcycling culture.

In conclusion, the Harley Davidson 1340 Evo demonstrates Harley Davidson's commitment to innovation and its desire to produce high quality motorcycles. Its powerful engine, advanced technology and distinctive design have left an indelible mark on the motorcycle industry, and it will always be remembered as one of the most iconic motorcycles ever produced by Harley Davidson.
A custom motorcycle project?
Do not hesitate to entrust us with your custom motorcycle project, we will be delighted to create a unique motorcycle for you.